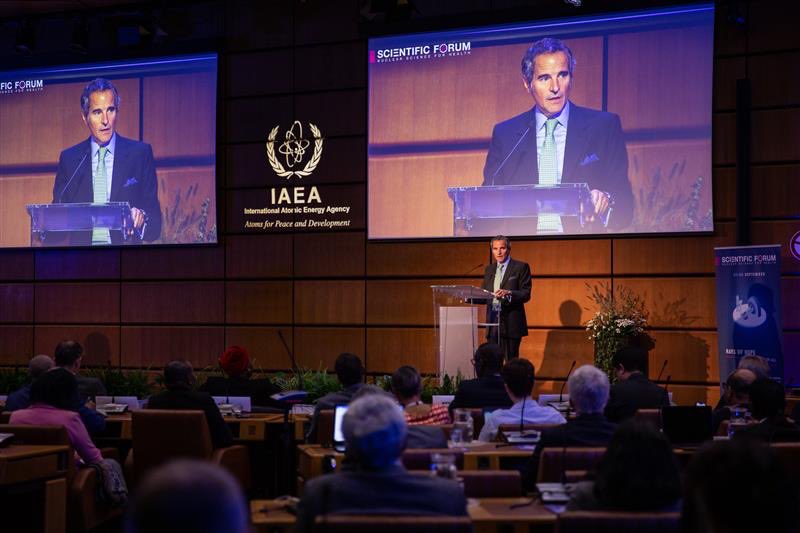 Cancer – a leading cause of death worldwide – impacts patients, their families, worldwide health systems and economies. It causes almost ten million deaths every year with €1.16 trillion spent on prevention, treatment and disability support. As the burden of cancer grows, inequality grows with it – 70 per cent of deaths occur in low- and middle-income countries.
To discuss how to expand and establish capabilities of countries in addressing these challenges, high-level representatives and leading experts from around the world are meeting in Vienna for this year's Scientific Forum with the theme Rays of Hope: Cancer Care for All.
"Cancer diagnosis, which are curable in parts of the world, are a death sentence in other parts – this is not excusable, since we have the technology and we know how to solve this problem," said IAEA Director General Rafael Mariano Grossi, during his opening speech at the Scientific Forum today.
To further explain the issue, Shekinah Elmore, radiation oncologist and patient care advocate, said in her keynote speech: "There are millions of people around the world who are just like me. People who could survive their cancers, build their careers and parent their children. People who deserve this access to cancer care, access to radiation medicine."
Over the next two days on the margins of the IAEA's 66th General Conference, experts will discuss how to strengthen quality, safety and sustainability in cancer care, enhance innovation and research, and boost partnerships and networks – all key elements of the IAEA's Rays of Hope initiative, which was launched in February this year on the eve of the Africa Union summit on World Cancer Day.
"What the new initiative Rays of Hope brings to the table is viable, concrete, practical options. Countries do not need other plans and speeches. What they need is radiotherapy units, trained personnel, concrete solutions," said Mr Grossi. Rays of Hope builds upon the Agency's six decades of experience and expertise in nuclear science to diagnose and treat different types of tumours. The initiative supports the establishment and expansion of diagnostic and treatment services, with a particular focus on the more than 20 IAEA Member States that completely lack facilities for radiation treatment.
"If it was not for the diligent pursuit of the Rays of Hope initiative, I do not know where else we would turn. The Rays of Hope gives hope to our citizens," said Malawi's President Lazarus McCarthy Chakwera. "My country needs this initiative, which has already made strides towards establishing cancer treatment centres in Malawi, as well as the development of Malawi's first radiotherapy centre," he added, urging all leaders to join forces in pooling resources together for this cause.
During the opening session today, the IAEA Director General was joined by representatives of countries and partners including those, who have already committed to support the Agency's work to address cancer.
One of them is World Health Organization (WHO), which has a long-standing collaboration with the IAEA. "WHO and IAEA have significantly scaled up collaborative efforts to support and strengthen cancer control programmes," said Director-General of WHO Tedros Adhanom Ghebreyesus, while inviting others to join both organizations in their efforts. "WHO supports IAEA's Rays of Hope initiative as a part of our collective efforts, which are guided by the experiences of people affected by cancer," he added.
Joint efforts of various players in cancer care can result in preventing one third of all cancers, including some of the most common forms such as cervical, breast, head and neck, and colorectal cancers. Investments in diagnosis and treatment can ensure that diseases are cured if detected early and treated appropriately.
Benin, Chad, the Democratic Republic of the Congo, Kenya, Malawi, Niger and Senegal are among the inaugural partner countries working with the IAEA under Rays of Hope. They are mobilizing financial resources towards building, equipping and sustaining the necessary infrastructure for cancer care and to train specialists, health workers and technicians.
"Cancer has become one of the greatest challenges that our health systems are called upon to meet in terms of accessibility to diagnostic, therapeutic and follow-up means," said Benjamin Hounkpatin, Benin's Minister of Health. "Several countries in Africa are implementing various programmes to face these vital challenges, but the equipment capacities of our systems sometimes remain limited to cover all the needs in the fight against cancer."
To achieve maximum reach, impact and sustainability of Rays of Hope, the IAEA is expanding networks to include a broad range of partners, including its Member States, development agencies, professional societies, financial institutions and the private sector. Earlier this year, six countries pledged more than €9 million to the initiative. These include France, Japan, Monaco, the Republic of Korea, Sweden and the United States, bringing the total contributions to date to roughly €12 million.
"This is where Rays of Hope is raising hopes and can make a difference. If we can bring together resources but also experts in healthcare, policy, security and development, from all over the world, we can marshal the resources needed to improve and expand global access to crucial radiotherapy technology," said Jennifer Granholm, Secretary of Energy of the United States of America, which has allocated resources already twice for Rays of Hope.
"There is a gap between and among the countries, but scientific progress can give us hope. Rays of Hope demonstrates the need for this progress to meet this challenge. I believe that by working together, we are going to make headway," said François Jacq, General Administrator of the French Atomic Energy Commission (CEA), which has also donated to the initiative in June this year.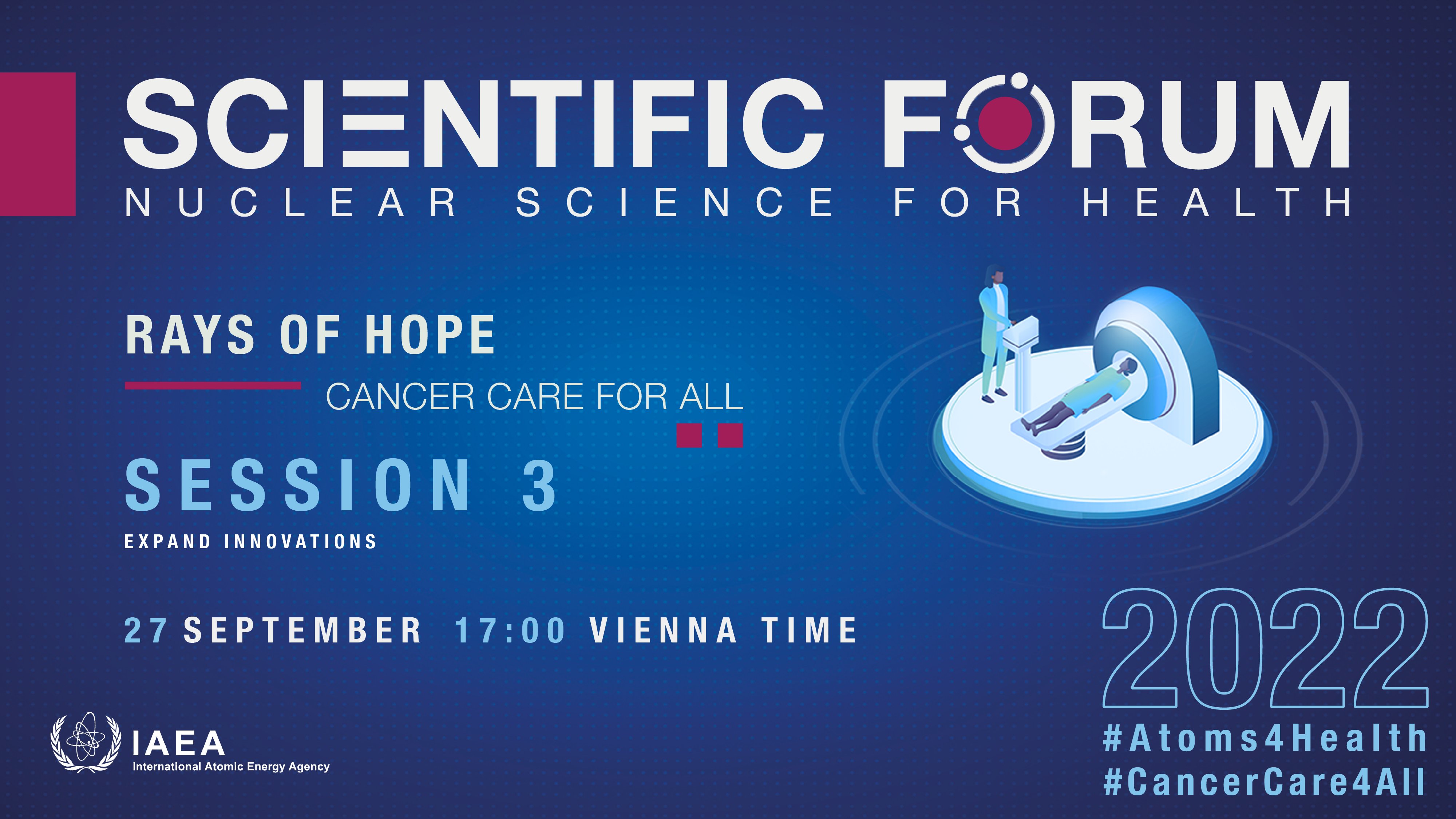 Overview of the sessions
Session 1: The role of radiation technologies in the medical management of cancer patients
The first session will focus on the medical uses of radiation for the diagnosis of cancer and the treatment of patients. The fundamental role of radiotherapy in addressing the global burden will be discussed, taking into consideration the fact that many countries do not have a single radiotherapy machine. The role of radiology and nuclear medicine in providing diagnostic information to inform the treatment of patients will be explored, while cost models will also be discussed.
Session 2: Enhancing quality, safety and sustainability
Bolstering regional cancer institutions and establishing collaborative networks in all aspects of radiation medicine will help ensure quality, safety and sustainability in the delivery of cancer care for all. This session will explore the development of regional 'anchor centres' — cancer centres which have a long-standing collaboration with the IAEA and whose valuable services are essential for providing high-quality care and training at the regional level. IAEA support to countries through training, provision of experts and quality improvement will be discussed.
Session 3: Expand innovations
The third session will showcase the vital role of innovation in meeting the growing global need for cancer care, considering its role in education and research. Speakers will discuss the importance of access to modern technology in enabling the expansion of cancer care services, as well as the Secretariat's cooperation with Member States in fostering this development.
Session 4: Radiation in medicine within the context of the cancer continuum – Enhancing access to medical uses of radiation globally safely and securely
Tackling the burden of cancer requires a multi-sectoral, multidisciplinary and evidence-based approach founded on universal health coverage for effective cancer prevention. This session will look at incorporating uses of radiation medicine within the wider cancer control continuum through country examples, while also considering the role of safety and security in radiation medicine, as well as the role of global cancer initiatives.
Session 5: Closing Session – The way forward
The closing session will be a high-level panel discussion with Mr Grossi, where the role of partnerships and collaborations in promoting access to cancer care through the IAEA's Rays of Hope initiative will be discussed. From countries seeking to establish their first radiotherapy centre to those wishing to expand existing national cancer programmes, this session will focus on resource mobilization and outreach to a broad partnership base to achieve the goal.
Quelle: IAEA