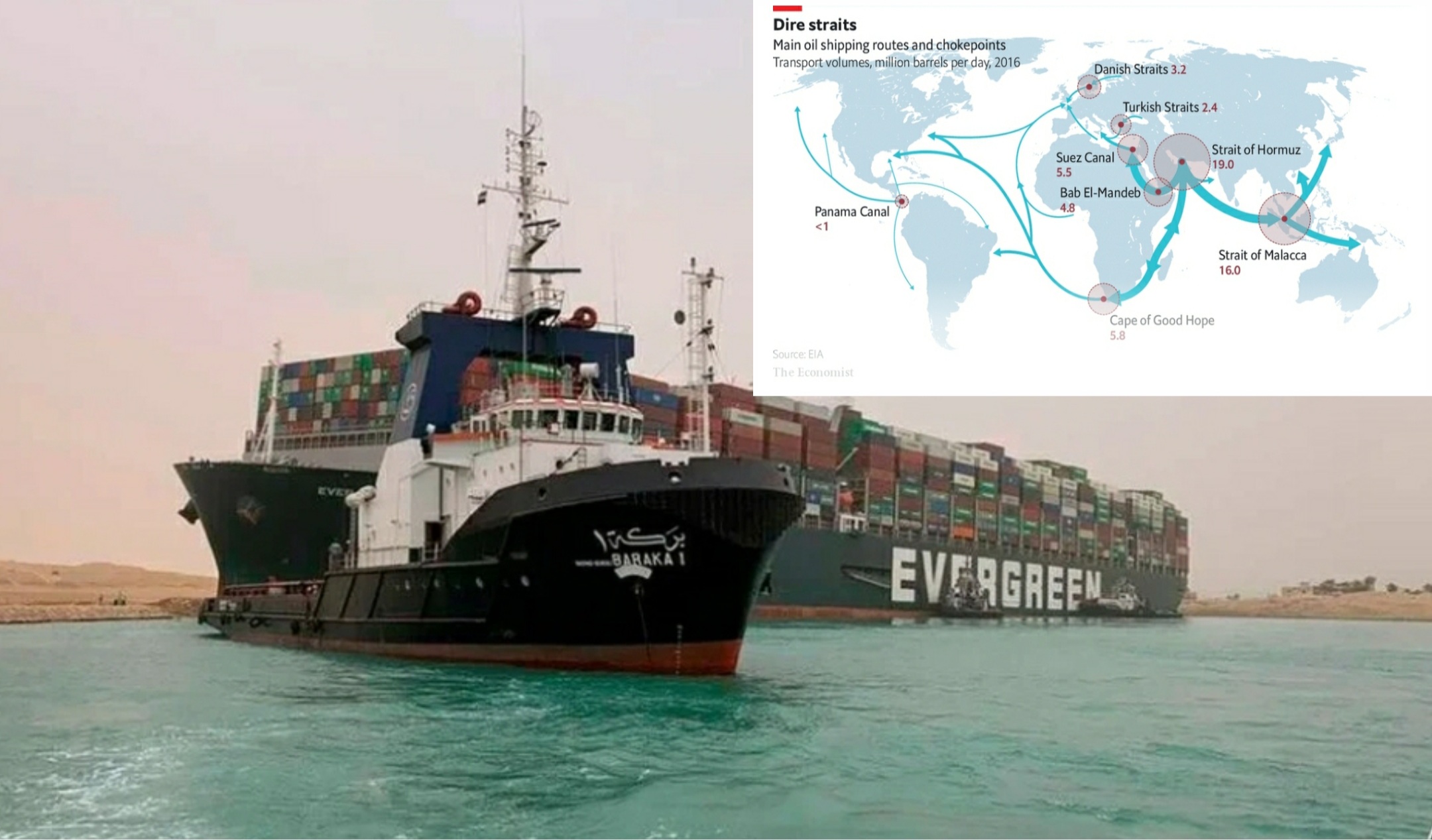 Schifffahrtsvolumen, Sicherheitsbedrohungen und klimawandelbelastende Faktoren…
Diese Woche veröffentlichte Shoei Kisen Kaisha, eine japanische Firma, eine Pressemitteilung, nachdem ihr Schiff, die Ever Given, im Suezkanal auf Grund lief.
Starke Winde sollen es am Dienstag vom Kurs abgebracht und so verkeilt haben, dass es andere Schiffe daran gehindert hat, den Seeweg zu passieren. Der hartnäckige Widerstand der Ever Given wieder frei zu schwimmen, hat tausend Meme hervorgebracht, aber der wirtschaftliche Schaden ist leider kein Witz.
Der Kanal befördert 12 % des weltweiten Handels nach Volumen, und eine alternative Route zwischen Asien und Europa, um das Kap der Guten Hoffnung, fügt mehr als eine Woche Transportzeit hinzu. Der Suezkanal ist einer von vielen engen Drosselpunkten, auf die der Seehandel angewiesen ist. Andere sind der Panamakanal, der den Atlantik und den Pazifischen Ozean verbindet, und die Straße von Hormus, die den Persischen Golf mit dem Golf von Oman verbindet. Auch ohne steckengebliebene Schiffe stehen diese Drosselpunkte mehr denn je unter Druck.
Nach einer Woche ist die "Suez-Blockade" endlich vorbei und der Schiffsverkehr konnte wieder aufgenommen werden.
Why the Suez Canal and other choke-points face growing pressure
Shipping volumes, security threats and climate change put the squeeze on vital seaways
APOLOGIES DO NOT come much bigger. This week Shoei Kisen Kaisha, a Japanese firm, issued a grovelling press release after its ship, the Ever Given, became wedged in the Suez Canal. High winds supposedly blew it off course on Tuesday, preventing other ships from passing through the seaway. The Ever Given's stubborn refusal to refloat has launched a thousand memes, but the economic damage is no joke. The canal carries 12% of global trade by volume, and an alternative route between Asia and Europe, around the Cape of Good Hope, adds more than a week to a ship's journey. The Suez Canal is one of many narrow choke-points on which maritime trade relies. Others include the Panama Canal, which links the Atlantic and Pacific Oceans, and the Strait of Hormuz, which connects the Persian Gulf to the Gulf of Oman. Even without a ship as long as the Empire State Building is tall stopping traffic, these choke-points are under more pressure than ever.
After a week the Suez blockade is over and shipping can be resumed.
Text: The Economist
Photo: AP