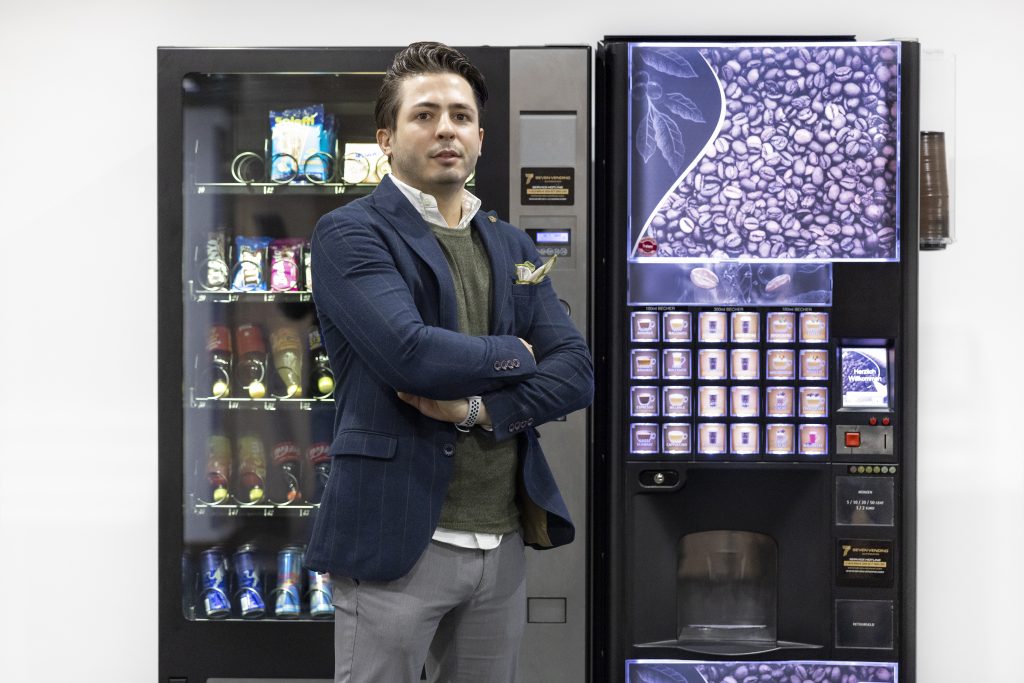 WOSSA ist unbehandeltes, steirisches Alpenquellwasser aus dem Naturschutzgebiet des Hochschwab-Gebirges im Mariazellerland
Die Firma Seven Vending ist seit über zehn Jahren erfolgreich in Österreich und seit einigen Jahren auch international tätig. Egal ob Kaffeeautomaten, Wasserspender oder Kalt- & Snackautomaten – mit maßgeschneiderten Angeboten findet "7 Vending"  für alle die perfekte Lösung.
Für das Magazin Diplomacy and Commerce Austria haben wir mit dem jungen und erfolgreichen Unternehmer Eren Talas, Geschäftsführer von Seven Vending und Wossa, über einen neuen Trend des Konsums von Speisen und Getränken bei der Arbeit in großen Unternehmen und die attraktiven Angebote, die die Firma Seven Vending und Wossa für Firmen anbietet, gesprochen.
Das moderne Konzept und Ihre breite Angebotspalette machen Sie für viele Unternehmen zu einem attraktiven Partner, was wird in Ihrem Unternehmen angeboten?
Unter der Marke Seven Vending betreiben wir seit über zehn Jahren Verpflegungslösungen wie Kaffee-, Kaltgetränke-, und Snackautomaten. Die Marke WOSSA ist unsere Neugründung für Wasserspender, womit wir unser Produktportfolio erweitern und unseren Kunden ab sofort Wasserspender mit Alpenquellwasser anbieten.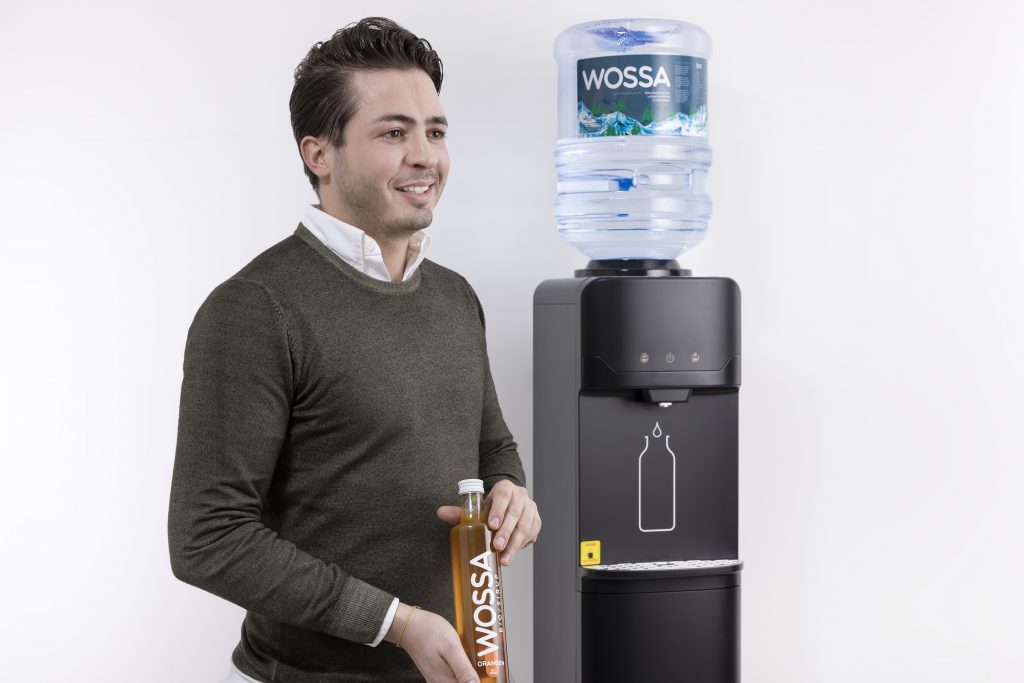 Bekanntlich sind mehrere Unternehmen im Bereich Verpflegungslösungen in Österreich tätig. Warum sollten sich Kunden für SevenVending entscheiden?
Wir legen sehr viel Wert auf engen Kundenkontakt. Persönlichkeit und Transparenz sind unser oberstes Gebot. Unsere Kunden wissen, sie sind gut bei uns aufgehoben und haben immer Unterstützung. Wir sind das einzige österreichische Unternehmen in diesem Gebiet, welches seinen Kunden soviel Service aus einer Hand anbietet.
 In welchen Gebieten ist SevenVending und WOSSA zurzeit am meisten vertreten?
Wir sind in fast allen Gebieten vertreten, mit den Wasserspendern sogar in privaten Haushalten. Am meisten sind wir in Produktionsbetrieben und Bürogebäuden vertreten. Wir sind auch international tätig, momentan bieten wir nur den Kauf unserer Automaten für unsere Kunden im Ausland an. Demnächst starten wir mit unserem neuen Standort in Deutschland durch, um unsere Verpflegungslösungen mit dem selben Service auch dort anbieten zu können.
Um was für Wasser handelt es sich, wenn wir über Ihr Wossa-Produkt sprechen?
Unser WOSSA ist unbehandeltes, steirisches Alpenquellwasser und hat den höchsten natürlichsten Sauerstoffgehalt. Es handelt sich um natürliches Wasser aus dem Naturschutzgebiet des steirischen Hochschwab-Gebirges im Mariazellerland. Es ist eines der reinsten Wasser der Welt und somit auch für Säuglinge bestens geeignet.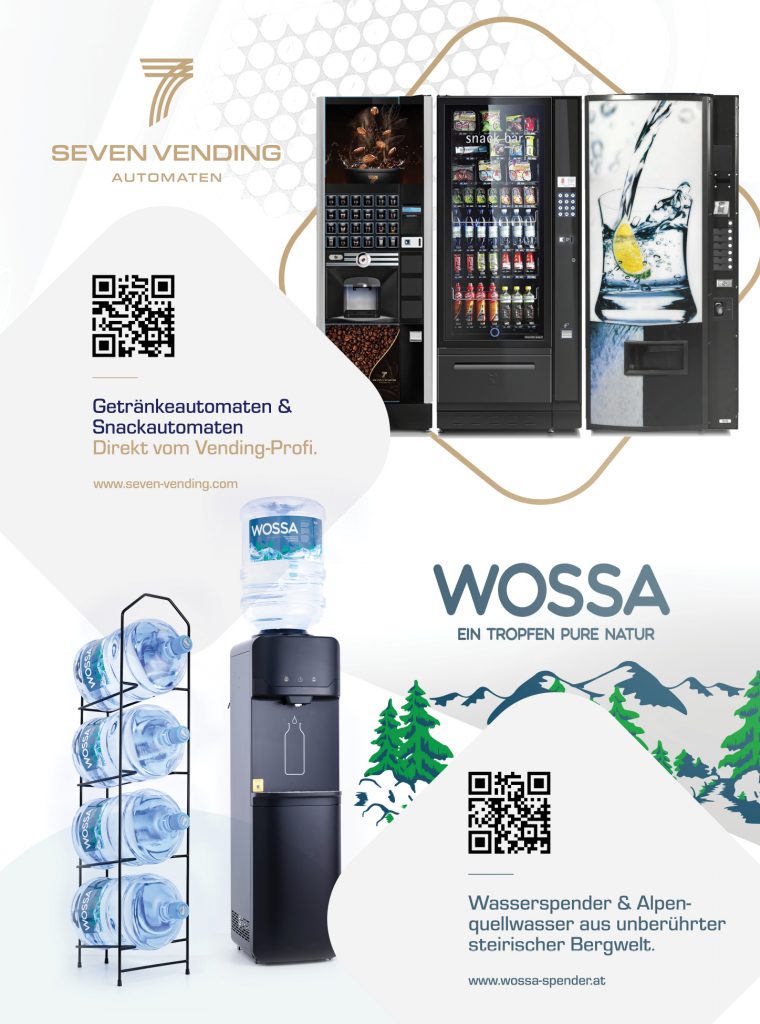 Welche Möglichkeiten für Verpflegungslösungen hat man als Kunde bei Seven Vending und WOSSA?
Egal ob privater Haushalt oder Geschäftskunde – bei WOSSA gibt es Möglichkeiten schon ab 99 Cent / Tag. Sie bekommen eine Direktlieferung, wobei Sie sich eine Menge Müll und lästiges Schleppen von Flaschen ersparen. Für Automaten gibt es auch die unterschiedlichsten Lösungen. Wie zB der "Rund um Service" für Unternehmen, wo Sie sich selbstverständlich um nichts kümmern müssen und auch keinerlei Ausgaben haben oder auch die Option eines Kaufs mit Leasingoption ist gegeben, schon ab 24,90 / monatlich.
English:
Eren Talas, Managing Director of Seven Vending and Wossa
WOSSA is untreated, Styrian Alpine spring water from the nature reserve of the Hochschwab Mountains in Mariazellerland
Seven Vending has been successful in Austria for over ten years and has also been active internationally for a number of years. Whether coffee machines, water dispensers or cold and snack machines – with tailor-made offers, "7 Vending" finds the perfect solution for everyone.
For the magazine Diplomacy and Commerce Austria we talked to the young and successful entrepreneur Eren Talas, Managing Director of Seven Vending and Wossa, about a new trend in the consumption of food and drinks at work in large companies and the attractive offers that Seven Vending and Wossa have for companies.
The modern concept and your wide range of offers make you an attractive partner for many companies. What is offered in your company?
We have been operating catering solutions such as coffee, cold drinks and snack vending machines under the Seven Vending brand for over ten years. The WOSSA brand is our new establishment for water dispensers, with which we are expanding our product portfolio and are now offering our customers water dispensers with alpine spring water.
As is well known, several companies are active in the field of catering solutions in Austria. Why should customers choose SevenVending?
We attach great importance to close customer contact. Personality and transparency are our top priority. Our customers know that they are in good hands with us and always have support. We are the only Austrian company in this area that offers its customers so much service from a single source.
In which areas are SevenVending and WOSSA currently most represented?
We are represented in almost all areas, with the water dispensers even in private households. We are mostly represented in production plants and office buildings. We are also active internationally, currently we only offer the purchase of our machines for our customers abroad. We will soon be launching our new location in Germany in order to be able to offer our catering solutions there with the same service.
What kind of water is it about when we talk about your Wossa product?
Our WOSSA is untreated, Styrian alpine spring water and has the highest natural oxygen content. It is natural water from the nature reserve of the Styrian Hochschwab Mountains in Mariazellerland. It is one of the purest waters in the world and is therefore also ideal for babies.
What options do you have for catering solutions as a customer at Seven Vending and WOSSA?
Regardless of whether you are a private household or a business customer – at WOSSA there are options from just 99 cents / day. You get a direct delivery, which saves you a lot of rubbish and the hassle of lugging bottles around. There are also a wide variety of solutions for vending machines. For example, the "all-round service" for companies, where you do not have to worry about anything and have no expenses whatsoever, or the option of buying with a leasing option is available, starting at 24.90 per month.
Text: Svetlana Nenadovic Glusac